Mother and baby died of blood disorder, inquest told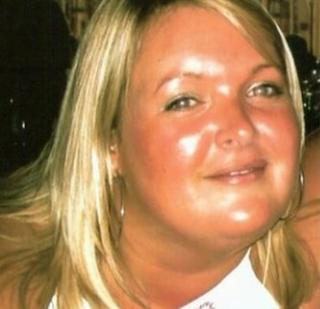 Relatives of a woman who died along with her unborn baby from the effects of a rare blood disorder have said they hope lessons will be learned.
Cara Officer was 26 weeks pregnant when she was taken to the Ulster Hospital, Dundonald, on 12 June 2011, with symptoms suggestive of a stroke.
She died a short time after arriving and her baby was delivered stillborn.
An inquest found, with hindsight, there may have been missed opportunities to diagnose her condition.
But the coroner said he was not able determine if Cara and her son would have survived with an earlier diagnosis.
The inquest heard that a post-mortem examination had revealed that what Cara had actually been suffering from was a very rare blood disorder known as TTP - which can be difficult to diagnose.
In his findings, coroner John Leckey highlighted a number of different occasions which, he concluded, may have been regarded as possible opportunities to make that diagnosis.
The first was when Cara visited an out-of-hours GP on 21 May 2011, complaining that her urine was a strange colour.
Migraine
On 6 June 2011, she told her GP she had a headache, diarrhoea and was feeling tired.
The following day she told her GP she had a feeling of numbness in her left arm and on the side of her face.
It was recommended that she go to the Emergency Department of the Ulster Hospital, but instead went to the Day Obstetric Unit where her symptoms were wrongly attributed to a migraine.
A few days later, on 10 June, she visited her GP again, where she was advised not to go on holiday.
Later that afternoon, her friend became concerned because her face was drooping and speech was slurred and phoned a locum doctor, who advised her to go to the hospital.
The court heard that Cara had been unwilling to go to the hospital because of a long wait she had had at the Day Obstetric Unit earlier in the week.
The locum doctor tried to contact her twice by phone without success, but did not make a home visit.
The coroner found that Cara was mentally competent at this stage, two days before her death.
However, he concluded that she was not in a position to assess objectively the serious potential consequences for herself and her unborn baby - she did not have that knowledge.
Cara's family said they will never veer from the belief that she would never knowingly put the life of her baby or her own life in danger.
In a statement, the South Eastern Trust expressed its "deepest sympathy on the tragic death of Cara Officer and on the stillbirth of her son".
It added: "Pregnancy is associated with many complications, some of which are life-threatening.
"As the senior coroner has stated, this case was rare.
"Cara's tragic death has heightened the awareness of this rare disease which will make staff better prepared to manage a patient presenting with such an unusual condition like this in the future."