Father Peter Donnelly cleared of Belfast sex abuse charges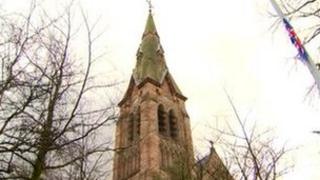 A former curate at St Matthew's Catholic Church in east Belfast has been cleared of sex abuse charges.
Father Peter Donnelly was found not guilty by a jury on the direction of the trial judge.
The jury had been sworn in at Belfast Crown Court to try him for allegedly abusing a girl in the church parochial house over a five year period.
Fr Donnelly, 71, was charged with six counts of indecent assault and a further count of gross indecency.
He denied all the charges which were alleged to have taken place between 1983 and 1988.
Two previous juries in the case were unable to reach a verdict on the charges against Fr Donnelly.
After the third jury was sworn in, a prosecuting barrister told the judge: "The crown is not offering any evidence in this case.''
The judge said that as a result of prosecution decision, he was directing the jury of nine men and three women to acquit Fr Donnelly of all the charges.
Outside the Laganside court complex, a defence solicitor said: "Due process has taken place in which Fr Donnelly has co-operated fully and he has now been found not guilty.''