Spending watchdog: Costs should be more transparent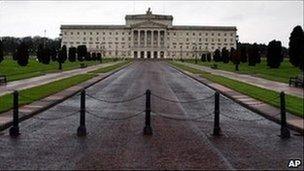 Stormont should be more transparent about Private Finance Initiative (PFI) costs, a spending watchdog has said.
PFI schemes involve the private sector financing, building and maintaining public facilities for an annual fee.
There are 39 PFI schemes in Northern Ireland that will cost more than £7bn over the lifetime of the projects.
The Northern Ireland Auditor General said Stormont departments should provide MLAs with 'more transparent, robust and comprehensive' details.
The Auditor General's report states that there is currently no central collection of PFI costs nor is that detail disseminated directly to the assembly or its committees.
It also highlights the need to test the cost and quality of services to ensure that value for money is achieved over the life of the contract.
Other UK regions have started programmes to look for savings in PFI contracts but the report said Northern Ireland has no "similar strategic" programme.
However, it does commend some public bodies, such as Invest NI, which has identified savings.