University of Ulster secures £150m loan to help build Belfast campus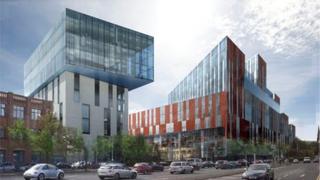 The University of Ulster has secured £150m in loan finance to help build its new Belfast campus.
The money was approved from the European Investment Bank (EIB) in December.
The university would not comment as an announcement event is being planned with bank officials in the near future.
The EIB is the European Union's bank based in Luxembourg and this will be one of its most significant ever projects in Northern Ireland.
The total cost of the campus is put at around £300m, involving the construction of three campus buildings for 12,000 students.
Construction is due to begin in 2015 and should be completed by 2018.
The money will be a loan, similar to a mortgage.