Men admit 'richest man' burglary plot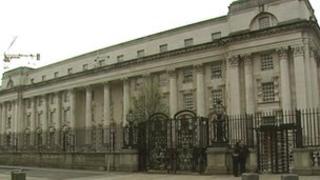 Three men from Merseyside have admitted plotting to burgle a Belfast house, reported to be the home of one of Northern Ireland's richest men.
They are Richard Blundell, of Bardsay Road, Liverpool; Craig Murray, of Victoria Road, Crosby and Stephen Barlow of Hewitson Road, Liverpool.
They also admitted conspiring to commit aggravated burglary at the house.
Details were not given in court, but it was reported their target was the home of multi-millionaire Michael Herbert.
Mr Herbert's business interests are said to include Europe's largest chain of Kentucky Fried Chicken (KFC) outlets.
The charge states that the men were carrying cable ties when they went into the house on Belfast's prestigious Malone Road with intent to steal between March 31 and April 9 2011.
In September 2011, at a High Court bail hearing in Belfast, the judge said prosecution claims made against the trio suggested they had "all the trappings of professional criminals".
At the earlier hearing, the judge said the prosecution claimed the men were "a highly organised, experienced and sophisticated criminal gang involved in detailed planning, equipping themselves with all kinds of articles, reconnaissance and surveillance tactics and so forth."
The three men faced five charges and had been due to go trial on Wednesday.
But on Thursday afternoon, defence lawyers returned to the court in Belfast and asked that the charges be put to them again.
A prosecution lawyer asked for one charge to be amended so as not to include "while armed with weapons of offence, namely a lump hammer and three crowbars".
The lawyer said that in light of the guilty pleas to the charge of aggravated burglary, the first four counts - conspiracy to rob, false imprisonment, going equipped for burglary and conspiracy to commit burglary - should remain on the books.