Northern Ireland new car sales up 10% in 2013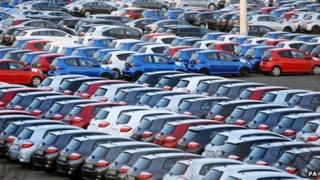 The number of new cars registered in Northern Ireland rose by more than 10% in 2013, according to a trade body.
There were 52,460 new registrations in 2013 compared to 47,519 in 2012, the Society of Motor Manufacturers and Traders (SMMT) said.
The figures are seen as an important measure of consumer spending.
The economic crisis saw a big fall in the number of new cars being sold, and the improved 2013 figures are still well below the 2007 peak of 68,000.
In the UK as a whole, car sales in 2013 recorded their best year since 2007, helped by cheap credit deals and stronger consumer confidence.
The SMMT said that 2.26 million vehicles were registered in 2013.
That was a 10.8% rise on 2012, although the figure is 6% lower than 2007's 2.4 million figure.
The 2013 total was boosted by a 23.76% rise in sales in December, marking the 22nd successive month of increases.
In Northern Ireland sales surged by 28% in December - the highest rate of growth in any part of the UK.
The most popular new car in Northern Ireland in 2013 was the Ford Fiesta with 2,314 sales.
While small cars dominate the top 10, Nissan's compact SUV models, the Qashqai and the Juke, both feature in the top 10 at number five and seven respectively.