Bombardier Aerospace: East Belfast energy plant to create 130 jobs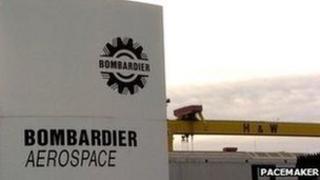 An £85m energy plant which will create 130 construction jobs has been given the green light at Bombardier Aerospace in east Belfast.
The energy plant will be adjacent to the company factory in the city's Harbour Estate.
The new facility will turn waste product into power at the factory which makes wings for the new CSeries jet.
As well as the construction jobs, a further 20 posts will be created when the plant becomes operational.
It will convert 120,000 tonnes of commercial and industrial waste annually into electricity and heat using a gasification process.
Gasification plants operate by heating waste to produce a gas that is used to generate steam.
The steam then drives a turbine that creates electricity.
Granting planning permission, Environment Minister Mark Durkan said: "This is good news for Bombardier's workforce.
No objection
"It will help it reduce electricity costs and safeguard employment."
His department received no objection letters in respect of the proposal.
According to the planning application, the plant will take 18 months to build.
The project will reduce energy costs significantly. Currently Bombardier pays three times more for power in Belfast than it does at its sister facilities in North America.
Mr Durkan said: "This facility will draw value from waste which cannot be recycled, preventing it going to landfill and will instead use it to generate energy.
"This proposal is a win for the environment and and a win for the economy."
Last November, Bombardier was granted permission for a smaller renewable energy plant at its factory in Newtownabbey.