Coastal Communities Fund boost for Kilkeel and Waterfoot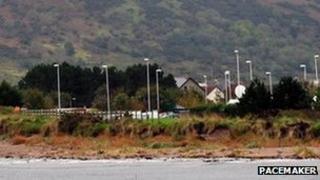 Two seaside areas in Northern Ireland have been awarded grants totalling £446,000 for regeneration projects.
The money comes from the government's Coastal Communities Fund (CCF), which allocates revenue from marine activity.
In Waterfoot, County Antrim, a grant of £186,000 to Moyle District Council will fund the conversion of a disused toilet block into a coastal centre.
A project to create a lobster hatchery in Kilkeel, County Down, is getting more than £260,000 in funding.
It will produce juvenile lobsters for release into the wild, with a long-term aim of sustaining the local lobster population.
'Safeguard jobs'
An educational resource to raise understanding of lobsters and a research partnership with Queen's University Belfast will also be located at the centre.
The centre in Waterfoot will also give space to local artists and craft makers to sell their work.
Stormont Environment Minister Mark Durkan said the fund promoted regeneration and economic growth, and these projects would "directly or indirectly create sustainable jobs and safeguard existing jobs".
Mr Durkan said the next round of funding would open early in the new year, and he encouraged coastal communities to suggest suitable projects.
The Coastal Communities Fund was set up in 2012 to try to boost deprived seaside towns and villages.
The government says the idea is to help coastal towns create new business opportunities, jobs and skills that will benefit the area.
The money behind it comes from the Crown Estates, which own the rights to fish-farms, wind farms, ports and marinas.
Successful bidders are given money equivalent to 50% of revenues generated from things like offshore wind and tidal power and ship moorings in the area.