Cloughmills attack: Man remanded over attempted murder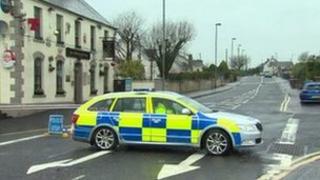 A 26-year-old man has been remanded in custody charged with the attempted murder of a colleague following a work Christmas party in County Antrim.
Andrew Linton, 26, of Main Street, Cloughmills threw a punch that knocked his victim to the ground on Monday.
A detective constable told the court two witnesses claimed Andrew Linton threw two further punches to the man's head, as he was lying unconscious.
He also said the victim was undergoing surgery on Tuesday.
The injured man, who is 34, is currently being treated at the Royal Victoria Hospital.
Mr Linton was remanded in custody until next year.