Haass and Northern Ireland parties continue talks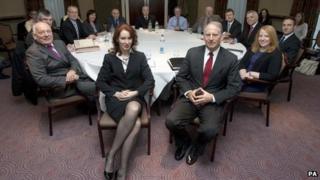 Negotiators from Northern Ireland's main parties continued talks through the night on the latest proposals from former US diplomat Richard Haass.
The talks on his fourth blueprint on flags, parades and the past are being described as potentially critical.
Dr Haass's first three sets of proposals deliberately tested out contrasting ideas on the parties.
But his fourth blueprint is being billed as an attempt to find some common ground.
It is said to be designed to stretch the parties, but not beyond breaking point.
The latest document does not have much on flags, which drew little agreement between the parties.
There is understood to be a fair amount on the proposed replacement for the Parades Commission - which regulates controversial parades- and quite a lot on a new approach to dealing with the past.
It is understood the parties still disagree over more than 20 points, including whether a new single historical investigations unit should be limited to examining specific incidents or should look at broad themes such as the role of collusion during Northern Ireland's Troubles.
'Interesting evening'
Dr Haass and Harvard professor Meghan O'Sullivan were brought to Northern Ireland in July by the first and deputy first ministers.
They aim to find consensus on flags, parades and the past by the end of the year.
Speaking to reporters on the way in to Monday evening's talks, Dr Haass said: "We continue to have the goal we've always had, to press ahead for an agreement.
"It's going to be an interesting evening."
The timetable for the talks were revised a number of times on Monday.
Originally, a round-table session had been scheduled for 11:00 GMT, however, it was later shifted to 18:00 GMT then to 20:00 GMT.
They got underway at about 20:50 GMT.
The delays on Monday appear to reflect the difficulties facing Dr Haass and his co-chair, Dr O'Sullivan, in bridging the gaps between the parties.