Haass suggests separate flags process to NI politicians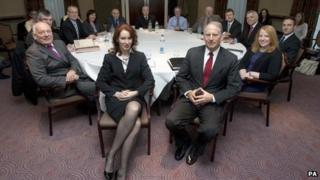 Revised proposals by former US diplomat Richard Haass on how to resolve thorny issues in Northern Ireland recommend a separate process to deal with flags.
The five Northern Ireland Executive parties have been given a third draft document on how to deal with parades, flags and the past.
The latest document states: "We could not reach a common position on the flying of flags."
Unionists had rejected a previous draft because of concerns about this issue.
Culture and tradition
Their objections had centred on the suggestion of a licensing scheme that would have meant permits being issued for the flying of flags on the streets.
This idea has now been scrapped, something that would concern the Alliance Party and the nationalist SDLP.
Dr Haass and Harvard professor Meghan O'Sullivan were brought to Northern Ireland in July by the first and deputy first ministers, with an aim of finding consensus on a range of difficult issues by the end of the year.
Dr Haass continues to suggest that all councils and other public buildings should fly flags only on designated days. He recommends that Northern Ireland should be in line with the rest of the UK.
The latest draft also recommends the establishment of a new working group or commission to examine flags and symbols.
The body, that would report to the Office of the First and Deputy First Minister, would look at culture and tradition. If agreement is reached, it would begin work three months later.
While a previous draft suggested appointing a group called the Political and Cultural Body, this name has been replaced by an office looking at parades, commemorations and protests.
The body would be called the Office for Parades, Select Commemorations and Related Protests.
The draft document also removes a reference to songs and hymns that might have "a propensity to cause offence" when played during parades.
Critics had questioned how this would be defined, and how such a measure would be enforced.
'Big test'
On the issue of the past, this latest document has not been radically changed with two bodies, the Historical Investigations Unit and one looking at information recovery, still being included in the draft.
Ulster Unionist leader Mike Nesbitt said he was happier with the latest proposals about the flying of flags.
"This document does not anticipate an agreement among the parties on how to deal with flags during the timeframe of this process," he said.
"Therefore, there wouldn't be a link between flags and parades."
The Ulster Unionist Party still has concerns about how this latest document approaches the issue of Northern Ireland's past.
SDLP assembly member Alex Attwood said the past was the most important issue.
"The big test is going to be the past, and dealing with that in a comprehensive and ethical way, so that people know that in going forward, the truth of the past is going to become known," he said.
Politicians are continuing to provide feedback on the proposals to Dr Haass and his team, and a revised version will form the basis for more round-table talks on Monday.
The DUP said it would not carry out any negotiations on a Sunday, but this would not rule out a busy period after midnight and on Monday morning ahead of the talks that are expected to begin at 11:00 GMT.
Meanwhile, Lord Eames, who co-chaired a previous attempt to deal with the legacy of the Troubles, said Northern Ireland's past was the "interlocking theme" of the talks and needed to be "unravelled once and for all".
"Our dark days, as we call it, are constantly eating away at our hopes for the future, and my hope and prayer is that the Haass talks will produce some formula that will allow us to see justice as well as unravelling this morass in the past," he said.
"A new generation is now in Northern Ireland that has not had to endure what we have seen in the past - they have a right to look forward to a future where there is some sort of security, stability and hope.
"I believe this Haass process has the opportunity now, if only we have the courage politically to grasp these possibilities, to put these things to bed."