Haass talks: DUP says 'no amnesty' in proposals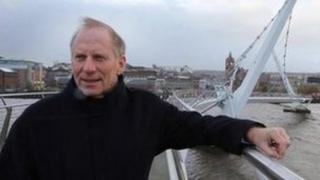 An amnesty for people involved in Troubles-related crimes is not part of draft proposals on how to deal with NI's past, the DUP has said.
It was reportedly discussed at talks chaired by US diplomat Richard Haass as an incentive to uncover the truth.
DUP MP Jeffrey Donaldson said immunity from prosecution was not included in Dr Haass's draft document.
Meanwhile, Sinn Féin's Gerry Kelly said his party had "difficulty" with some of the paper, but agreement was possible.
"We are in this together, we have to come to a conclusion together, we are open for that," said Mr Kelly.
'Honourable compromise'
Responding to DUP leader Peter Robinson's comments on Monday that there would be "steam coming out of my ears" if he thought that the draft document was the final paper, Mr Kelly said his party had deliberately stayed away from "histrionics".
His comments were Sinn Féin's first public reaction to the draft proposals drawn up by Dr Haass and his team, which were presented to Stormont's five main parties on Monday.
Later on Tuesday, DUP MP Jeffrey Donaldson was emphatic about the question of immunity for Troubles-related killings.
"There is no question of the final agreement, or indeed even this draft agreement, containing anything that represents an amnesty," he said.
Dr Haass said on Tuesday that he was still hopeful of reaching agreement.
Speaking during a break from the talks, he said a fresh draft document would be given to the parties on Wednesday.
SDLP leader Alasdair McDonnell said he believed there was room for "honourable compromise" and that the parties had to move away from "narrow political interest".
"What we're looking for is further building onto the foundations that are there," he said.
Asked about Mr Robinson's comments a day earlier, his party colleague Alex Attwood said: "People need to be cautious in the language they use and the tactics they employ."
'Hard work'
Alliance Party MP Naomi Long said it was "time for parties to show their mettle".
"They have asked Dr Haass to come and chair this process, but it's our process, any agreement has to be our agreement, and we are the elected representatives who will have to see it through," she said.
"That requires commitment from people - it doesn't require hysteria, grandstanding or game-playing; it requires hard work, and that's what we need to see over the next few days."
The discussions are expected to move up a gear on Wednesday, as Dr Haass's team pushes towards an agreed conclusion.
The US diplomat returned to Northern Ireland last week for what he said would be an "intense two weeks of deliberations and negotiations".