Lonely pensioner James Gray seeks company for Christmas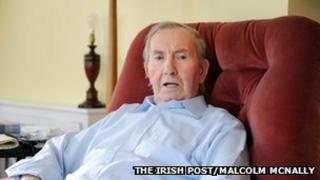 Mince pies, turkey dinners and quality family time - all trademarks of the Christmas holidays.
However, the festive season is often a lonely time for many people.
An Irish pensioner who has spent the last nine Christmases on his own has been trying in vain to find someone to share the holiday with this year.
Earlier this month, James Gray placed an advert in The Irish Post looking to set up a pensioner's group to have lunch together on Christmas Day.
However, the retired butler, originally from Midleton, County Cork but now living in London, was saddened when he received just one response.
The 85-year-old suffered further disappointment when the respondent changed her mind and told him she would be spending the holiday with someone else.
Accountant
Speaking to The Irish Post, Mr Gray said that he could hardly remember the last time he saw someone else on Christmas Day and did not want to spend it alone for the 10th year in a row.
"I just want to find someone in time. I am used to the loneliness, but I do not want it to be the same this year," he said.
"I think the last time I saw someone on Christmas Day was when I saw my accountant about 10 years ago."
Mr Gray began his career as a servant for several wealthy families in Ireland before moving to England and eventually becoming a butler.
He has no immediate family to call on as he is not married and never had children, and unless more respondents come forward he will have to spend another festive season alone in his flat.
"I think there must be quite a few lonely people around and I am on my own, so it would make sense I think if someone came here for Christmas lunch," he told The Irish Post.
"I just had smoked salmon and prawns on my own last year and I had to put up with it.
"This time of year is so hard if you are old and alone because it feels like everybody else around you is enjoying themselves."
The Irish Post is currently collecting Christmas cards for Mr Gray. If you would like to have a card passed onto him, send it to: The Irish Post, Suite A, 1 Lindsey Street, Smithfield, London EC1A 9HP.