Naomi Long says Haass talks need to resolve past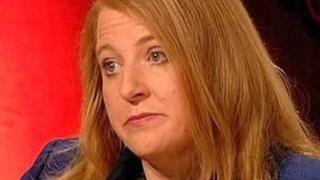 The issue of Northern Ireland's past may never be resolved if politicians fail to reach agreement on how to deal with it, an Alliance MP has warned.
Naomi Long is one of the party's negotiators at the talks chaired by US diplomat Richard Haass on parading, flags and the past.
She said there was an opportunity that needed to be grasped, as the multi-party talks entered a crucial phase.
"I think this is an important moment for Northern Ireland," she said.
Speaking on the BBC programme The View, she said: "I think if we can do this - in the next week to 10 days - we can transform the context in which we have conversations about a whole series of issues in Northern Ireland.
"If we get it wrong we may never get another opportunity to address these issues, and it's hugely important that we do."
Further talks are taking place on Friday, and these discussions will continue over the weekend.
Dr Haass has said he is determined to bring the talks to a head by the end of the year, and ideally before Christmas.
Speaking before going into Friday's talks, Sinn Féin MLA Gerry Kelly said all parties had room for compromise.
"As far as we're concerned, anything that any of the parties want to put on the table, we will listen to it," he said.
"Anything that Richard Haass puts on the table, we are going to listen to it and discuss it."
Mr Kelly said progress was being made, but he would not be drawn on the specific details.
"I am confident that we can crack this, but the proof is in the pudding and we will see next week," he added.