OECD report says 11-plus tensions 'affecting NI pupils'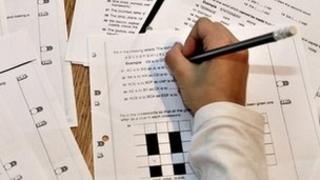 Political tensions surrounding the scrapping of the 11-plus are having a major impact on the welfare of pupils in Northern Ireland, a report has said.
A review was carried out by researchers for the Organisation for Economic Co-operation and Development (OECD).
It said polarised debate over the transfer test means children are not being properly assessed.
Some primary schools are pressured by parents to ignore policy and spend time preparing for unregulated tests.
The four-person OECD team said the tests are unsettling for children, parents and schools, and are also creating social imbalance through private tutoring.
Streamline
In their 200-page report, the researchers said the lack of political consensus is penalising pupils and that children are under pressure to perform in the tests.
The OECD has also recommended an investigation into the use of commercial companies in testing pupils here.
The researchers said commercial tests risk dictating what is taught in schools and possibly distorting the curriculum.
They also highlighted the failure to get the Education and Skills Authority up and running, and said it would significantly streamline the school system in Northern Ireland.
The report said there needs to be more professional development for teachers and recommends a review of the current model for evaluation.
The report has been welcomed by Education Minister John O'Dowd.
He said the OECD team had recognised that Northern Ireland stands out internationally in many ways, including in the "assessment and evaluation system".