Jailing of Holywood bandsman draconian - Nelson McCausland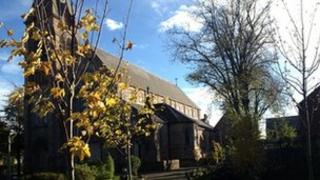 A jail sentence given to a flute band member for playing the loyalist song, The Sash, outside a Belfast Catholic Church has been described as draconian.
On Tuesday, Thomas Beresford, of Strathearn Court, Holywood, was jailed for three months over the incident in east Belfast on 29 September 2012.
Bands had been told they could only play hymns or a single drumbeat as they passed St Matthew's Church.
Bass drummer Beresford, 21, was jailed for defying the ruling.
Another member of the same band, Holywood True Blues, was given a three-month suspended sentence. He is Stephen Walker, 28, of Church Green, Holywood.
The incident happened during an Ulster Covenant Centenary parade.
'Tough and disproportionate'
Criticising the sentence, DUP assembly member Nelson McCausland said the parade had "passed virtually without incident".
"This is an extremely grave situation for Mr Beresford and his family," he said.
"To be sentenced to three months in prison for playing The Sash as part of a parade is an extremely draconian sentence to be handed down.
"Whilst the rule of law should be respected and upheld, I am at a loss to understand why such a tough and disproportionate sentence should have been handed down.
"It is regrettable that at a time when much more serious alleged offences are not being brought before a judge that someone should be jailed for playing a traditional tune."
Beresford had told a court that he had not seen flashing warning signs on the prohibited section of the parade as he played with his head "buried" forward.
However, a judge said footage of the parade showed Beresford "enthusiastically playing the bass drum, gesturing to the crowd and looking straight ahead of him".
The sentencing of a third bandsman was adjourned.