Bank of Ireland signs up to Help to Buy scheme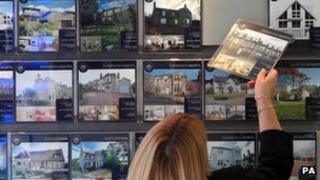 Bank of Ireland has become the second of the 'Big Four' banks in Northern Ireland to sign up to the UK government's Help to Buy scheme.
The initiative is designed to allow people to buy a home with a 95% mortgage.
The bank said its decision to join came at a time when the housing market was "showing clear signs of improvement".
In October, Ulster Bank said it would announce details of its participation "in due course".
Neither Danske Bank nor First Trust has signed up to the scheme, though Danske already offers a 95% mortgage.
Under Help to Buy, buyers across the UK only need to provide a small deposit, with the government offering a guarantee of 15% of the loan to the lender - for a fee.
That fee, charged to the lender, is up to 0.9% of the original loan level.
Borrowers who apply will face checks to make sure that they can afford the mortgage payments.
The scheme is available for first-time buyers and home movers borrowing to buy new and old homes valued at no more than £600,000.
It means a buyer looking to buy a home costing £200,000 would have to put down a deposit of around £10,000.
Demands have been much higher than this for many first-time buyers since the start of the financial crisis, usually about 20% of the value of a home.