Tassagh murder trial: Jury in Smith brothers case sent home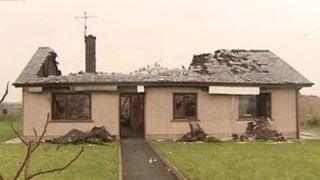 The jury in the case of four brothers accused of a double murder in County Armagh in 2006 has been sent home for the night without reaching a verdict.
Niall, Martin, Christopher and Stephen Smith deny murdering Thomas O'Hare and his girlfriend Lisa McClatchey at the couple's home in November 2006.
They have admitted bursting into the home wearing masks, beating Mr O'Hare and spraying petrol around the house.
However, they deny that killing either of the victims was part of their plan.
Mr O'Hare and Ms McClatchey died of the injuries received in the subsequent fire at the house in Tassagh. The four brothers were also badly burned.
They have claimed their intention had been restricted to burning the house in a bid to force Mr O'Hare from the area.
The jury retired to consider its verdict at noon on Monday.
Summing up in the case, a judge told the jurors they had to be satisfied beyond reasonable doubt that the defendants - who also suffered burns during the incident - had the "guilty mind" of intending to kill Thomas O'Hare and performed the "guilty act" of deliberately igniting the petrol.
He acknowledged that it was clear the defendants' plan would not have included burning themselves.
Alternative verdicts
The judge told the jury they had to be satisfied that one of the defendants had, nonetheless, lit the fire, even without a proper understanding of how the petrol vapour would ignite. If they were satisfied of that, he said, then the verdict was murder.
If they were not satisfied, he told them, the issue did not end there. He said there were two more alternatives to consider: attempted murder and manslaughter.
The public gallery in Armagh courthouse has been packed with family and supporters of both the victims and the defendants.
Several uniformed police officers were also present in the gallery, while more are present in the foyer of the court.
During the trial - now in its fourth week - the court has heard that Mr O'Hare had sexually abused Stephen Smith, the youngest of the four brothers, many years earlier.
The judge has been outlining for the jury of six men and six women the matters they must consider in relation to deciding if the four are guilty of murder, including what their intention was when they attacked the house that night.