Jim Allister: DUP 'bluffing' on Euro election candidates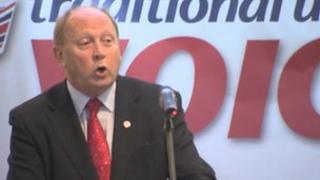 The DUP is bluffing over claims it may run two candidates in next year's European elections, the Traditional Unionist Voice (TUV) leader has said.
Jim Allister told his party's annual conference the DUP candidate in the last Euro election, Diane Dodds, had only held on by her "fingernails".
He claimed suggestions the party would run more than one was an attempt to "bamboozle" the Ulster Unionists.
However, he refused to say if the TUV would field a candidate.
Mr Allister once won a Euro seat for the DUP, and polled 66,000 votes for his new party last time.
In a 45-minute speech and without a script, he attacked his former party and Sinn Féin, who he accused of "using and abusing" power at Stormont in an attempt to edge Northern Ireland out of the UK.
In the Cookstown audience were a number of victims of the Troubles, including the widow of RUC Reservist John Proctor whose killer was convicted this week 32 years after he was murdered.
Also present was Ann Travers whose sister Mary was murdered by the IRA in the 1984.