Crossmaglen alert: Object abandoned near electricity pylons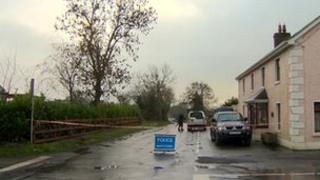 A security alert is continuing near Crossmaglen, County Armagh after a suspicious object was left close to the north-south electricity interconnector.
It is understood a beer keg has been found close to the pylons.
On Tuesday, police issued a warning to people in the area to be vigilant and not to approach suspicious objects.
It followed a telephone warning that a bomb had been left in the town. The person who made the call used a recognised codeword.
A police helicopter flew over the scene on Wednesday.
The Dundalk Road has been closed between Foxfield Road and the border.
'Infrastructure attacks'
The pylons link the electricity grids of Northern Ireland and the Republic of Ireland.
Northern Ireland Enterprise Minister Arlene Foster said: "It is not the first time our infrastructure has been attacked by terrorists.
"A previous generation wasted precious lives trying to advance a political goal through such tactics. They failed. This further attempt will also fail.
"I have been in touch with the electricity systems operator. The operator has procedures in place to deal with this event and ensure that power to homes in Northern Ireland is not disrupted."
Sinn Féin councillor Terry Hearty said it was causing a lot of disruption for people in the area.
"A number of houses in the area have been evacuated," he said.
"There's a section of the road closed close to the border and Gardaí (Irish police) have roads closed on the other side of the border.
"Tomorrow (Thursday) they say when they go in to examine this device that there may be more evacuations. They're predicting that the road will be closed most of the day."
In a statement, police said they regretted any disruption and would "endeavour to make the area safe for the people of south Armagh as quickly as possible but it is anticipated that the alert may continue for some time".
Ulster Unionist MLA Danny Kennedy said it was very concerning.
"The vast majority of the people in south Armagh want to live in peace, free from the threat of terrorism," he said.
"Those who are trying to kill innocent people with a bomb attack in Belfast and heighten tensions with bomb alerts in other areas offer nothing, but a corrupt ideology.
"They might copy the tactics of the Provisional IRA, but like them, they will still not achieve a united Ireland."
SDLP assembly member Dominic Bradley said: "The only people who are suffering because of this are local residents who have been evacuated from their homes and inconvenienced in their travel arrangements.
"As in the past, this type of activity is absolutely pointless. These actions must come to an end and those responsible should heed the will of the people locally, regionally and nationally."