PUP man John Kyle would advise against Belfast protest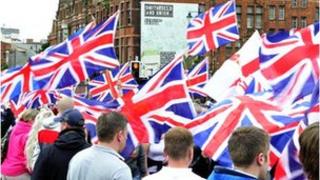 A Progressive Unionist Party councillor has said in his opinion protesters should not hold a demonstration in Belfast city centre on Saturday.
Loyalists are planning to mark the first anniversary of the flags protest with a demonstration at the City Hall.
PUP Belfast councillor Dr John Kyle said his personal opinion was that it should be held on a different day.
However, he later wrote on his Twitter account that he supported the right to protest and would attend the rally.
Speaking to the BBC's Nolan Show, Dr Kyle said his advice to the organisers of the protest "would be to do everything in their power to make it as peaceful and unobtrusive as possible in terms of the city centre and shopping".
"My personal view is that I would advise them not to do it on a Saturday, but I recognise that people still feel very strongly about the flag.
"It's a very important trading day for city centre business and we do not want to discourage people from going."
The Parades Commission has given the go-ahead to Saturday's demonstration but has placed restrictions on it.
Dr Kyle said he recognised the rights of the protesters to demonstrate over the flag issue and said they had behaved peacefully and in recognition of the law.
However he added: "My personal view is that they should do it on a day other than that Saturday."
"But if you're going to protest you want to make people aware of your feelings and your protest and I understand why they're doing it on that day."
The Progressive Unionist Party (PUP) has links to the loyalist paramilitary group the UVF.