BT creates 165 new jobs at Belfast customer service centre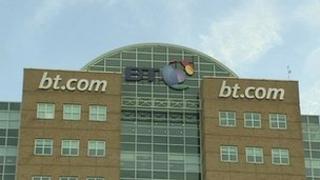 BT is creating 165 jobs in Belfast at a new customer service centre.
The company said the posts would support its operations across the UK as required.
BT works in 170 countries and already has 2,300 employees based in several locations in Northern Ireland.
The latest expansion in its Belfast-based workforce has been supported by both Invest NI and the Department for Employment and Learning (DEL).
They are offering BT grants totalling £850,000.
This is second time in a year that BT has created a significant number of jobs in Belfast.
Last December, about 100 new posts coincided with the opening of a customer service centre at Riverside Tower in Belfast.
The new customer service centre will be based in the same building.
The company said the new jobs will be "multi-skilled service advisors who can work across any part of BT that requires additional resource for short-term campaigns".
Colm O'Neill, the chief executive of BT Northern Ireland, said: "Our first BT Flex centre located in BT's Riverside Tower has been a great success and we are delighted that BT Group has chosen to expand our operation at this location to meet our growing demand for skilled and experienced advisers."
The centre is due to open early next year and recruitment for the 165 posts will begin later this month.