Music City: Katy B mentors Londonderry's young musicians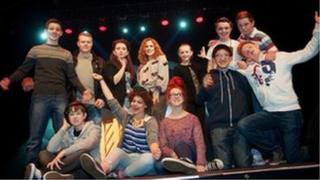 Not many of us like to admit it, but we have all done it - the old 'singing into a hairbrush and pretending to perform on stage in front of thousands of people' routine.
Although very few people get that chance in real life, 13 of Londonderry's finest young musicians have taken their first steps towards achieving their dreams.
With the help of pop star Katy B, the talented group have been showcasing their musical flair for BBC One Northern Ireland's new series, Music City.
The programme follows the young musicians as they take part in the Music Promise education project.
The project aims to encourage young people in Derry to get involved in music and learn more about a career in the industry, with the hope of building a musical legacy from the year of culture through the talented group.
Music City looks at the lives of the teenagers as they brave their stage fright, practise their instruments and rock out on stage - and where better to do it than in the 2013 UK City of Culture?
'Completely smashed it'
The teenagers, ranging from singers and DJs to pianists, drummers and harpists, were each given the opportunity to hone their skills and get an insight into how the music industry works with Katy B, whose hits include Broken Record, Lights On and 5AM.
Katy said that all of the young people relished the opportunity to showcase their talents.
"All of them rose to the challenge, every single one of them. They gave it everything they had, they completely smashed it.
"Their performances were brilliant, so hopefully it gave them the confidence to know that they can go all the way, and I gave them all the advice I could," she said.
Katy B, aided by Derry-based singer and guitarist Glenn Rosborough, and local harpist and music teacher Jenny Grant, set each young person a challenge to help them to take the next step in their musical career.
Katy has a strong musical background - she grew up singing, playing piano and even studied music at university.
She said she always knew that music was what she wanted to do and being a mentor for Music City was a chance for her to pass on some wise words to people hoping to forge a career in the music industry.
"I remember growing up and always looking for opportunities to gain a bit of experience and meet other musicians. That really gave me so much confidence, so I know the importance of projects like this.
"The kids were brilliant. They took on their challenges and gave it 110 per cent and they were so happy to be there. It was inspiring for me too because they were full of enthusiasm," she said.
Second home
Katy is no stranger to Northern Ireland. She said that one of her first headline gigs was at the Stiff Kitten in Belfast, and she was lucky enough to play at Radio 1's Big Weekend in May.
"Performing at the Big Weekend was great. It was the first time that I had performed with a big band, and Derry is such an inspiring city," she said.
Katy added that taking part in Music City also gave her the chance to embrace the local history and culture.
She said: "I had a wonderful time when I was here. Learning about the history of Derry and just soaking it all up as a tourist was really interesting for me.
"I also got to meet all of the kids' families. They welcomed me into their homes, they treated me so well and the hospitality was just incredible. I can't wait to go back, it now feels like my second home."
Sacrifice
Director and producer of the show, Des Henderson, said that Music City offers a view of the City of Culture through the eyes of its young people.
"The Music Promise project was set up with the aim of building a musical legacy from the year of culture through these young people.
"We got to work with these talented musicians, some of whom were more experienced and others who were making music for the first time," he said.
One of the participants, 15-year-old Hannah, told Radio Ulster that the programme had boosted her confidence enormously.
"I was always really scared to play my original stuff for people, but the documentary has helped me to play it for other people and hear what other people have to say about it," she said.
Katy B said that all of the teenagers from the show have a bright future and that Music City had helped them to realise their potential.
However, she added that it was important for them to understand the commitments and the sacrifices involved in becoming a successful musician.
"There's a lot of hard work involved. Some times you have to sacrifice fun things, like going out with your mates or something, to go and do a gig instead.
"The main thing to remember is to keep grafting and believe in yourself and if you know exactly what you want to do, don't let anyone tell you that you can't do it - just go for it."
Music City is on BBC One Northern Ireland at 19:30 GMT on Mondays from 25 November, and is repeated on Tuesdays at 22:00 GMT. It is also available to watch on the iPlayer.