John Larkin Troubles proposal an amnesty: Peter Robinson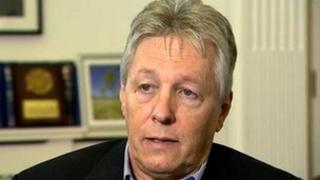 First Minister Peter Robinson has said the attorney general's proposal for an end to Troubles era prosecutions was "effectively an amnesty".
John Larkin has previously said he was not advocating an amnesty for people who killed during the Troubles.
However, on Thursday Mr Robinson said the proposal would allow people "to get away with murder".
He said those people who were victims of the Troubles had a right to expect prosecutions.
"Equally, I don't want to see those who have been the perpetrators feel that they can live the rest of their lives without the fear that they might one day be made accountable and amenable for the crimes they have committed," Mr Robinson said.
"In other societies they don't say 'we're not going to go after murderers anymore because the years have past by'."
"I oppose what the attorney general is saying."
He added that it was not Mr Larkin's job to be a political adviser to the Northern Ireland Executive.
"There are certain positions in our society where it is more appropriate for people to be apolitical," Mr Robinson said.
Irish Prime Minister Enda Kenny said Mr Larkin's proposal would be a breach of international human rights.
Mr Kenny said: "I think this would be in contravention of human rights. People have internationally a right to know. They have a right to find out and where (members of) the state were involved, there must be an investigation.
'Completely independent'
"From my perspective down here as Taoiseach, clearly this is a matter of international human rights... and if the hand of justice points incontrovertibly following court cases to individuals then justice has to take its course."
Earlier, Mr Larkin confirmed he consulted no ministers before proposing an end to Troubles-related prosecutions.
He said his suggestion was completely independent.
Mr Larkin said there should be no further police investigations, inquests or inquiries into any relevant killings that took place before the signing of the Good Friday Agreement in 1998.
His proposal was criticised by victims and politicians.
He was at the Royal Courts of Justice in Belfast on Thursday for the verdict on his successful challenge to a coroner refusing to hold an inquest into a stillbirth.
Asked if he had briefed or consulted the executive before making his views on Troubles-era cases known in a media interview, he said: "No minister, no MLA is engaged in what I said.
"It's entirely my contribution, independent, to the public debate."
The attorney general added: "I have put it out there and it's being discussed."