Property firm Corbo makes £135m loss after assets write-down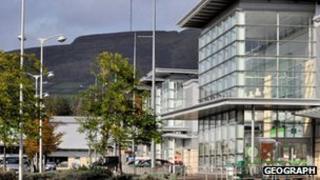 One of Northern Ireland's largest property firms, Corbo, made a loss of more than £135m in the year to January 2013.
It came after the firm wrote down the value of its assets by almost £140m.
Corbo is a major retail landlord - its properties include the Fairhill Centre in Ballymena, County Antrim, and the Shane Retail Park on Belfast's Boucher Road.
The firm's rental income in 2013 was £28m, down slightly on 2012.
Until now the firm had written down the value of its assets by comparatively modest amounts.
But it said a bigger write-down was now needed to recognise the "prolonged weak level of investor demand for properties outside London".
It added that the write-down was also influenced by the requirement from lenders to "accelerate debt reduction through short-term asset sales".
Corbo has been a seller of property in recent years, disposing of Longwood Retail Park in Newtownabbey, County Antrim, Damolly Retail Park in Newry, County Down, the Marks & Spencer building on Donegall Place in Belfast, and a Sainsbury's store in Ballymena.
Corbo is owned by Sam Morrison, who is regularly rated as one of Northern Ireland's wealthiest people.
Setting aside the write-down, the firm would have made a profit, after interest charges, of around £3m.
The directors said that the firm has "strong property fundamentals" and that the write-down was "prudent".
They added that its properties have a vacancy rate of just 2.3% and that the tenant line-up is dominated by major UK retailers on long leases.
A note in the accounts states that the company's loan facilities of almost £400m are due to expire in March 2014 and that the directors "fully anticipate" that the facilities will be renewed on similar terms.
Corbo has planning permission to build a major shopping development on the Scotts Mills site in Omagh, County Tyrone.