Belfast Trust cancels operations due to staff sickness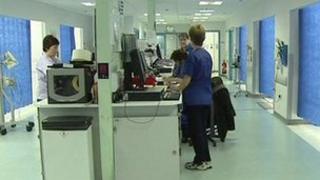 The Belfast Trust has come under heavy criticism after it cancelled a number of scheduled operations because of staff sickness.
Many people awaiting orthopaedic procedures have been affected.
The trust said it was the safest option to take because of what it described as an "unusually high seasonal level of absenteeism".
It said the operations would be rescheduled at the "earliest opportunity".
Brian Mulhern's father had his knee operation cancelled last week and believes the trust is not doing enough.
"There's crisis come wintertime, with the number of fractures, people falling, and the frost isn't even here yet, but is there no back-up plan?" he said.
"This seems to be every year we get the same excuse, that we've had high numbers being brought in, and there doesn't seem to be a separate plan put aside, it's like a car crash waiting to happen."
Sinn Féin MLA Maeve McLaughlin expressed concern at how the Department of Health was dealing with the level of cancelled appointments, especially those that are cancelled by hospital providers and consultants.
'Impact'
The Foyle MLA and chair of the assembly's health committee said: "The north has the highest amount of cancelled out-patient appointments between here and England, Scotland and Wales.
"In July alone, in all trusts in Northern Ireland, there were 29,189 cancelled appointments.
"These are shocking figures and certainly must impact on the health of patients. We were told that some of the reasons given as for why the appointments were cancelled was because the consultant was absent due to personal reasons.
"This amount of cancellations is not acceptable and clearly the department needs to rectify the situation so that patients are treated to the best health service possible."
The Belfast Trust had around 12,000 cancelled appointments in July, but more than half - 6,842 - were cancelled by patients.
Janice Smyth from the Royal College of Nursing said staff sickness was a problem in Northern Ireland's hospitals.
"I think the key question here is why are staff off sick?" she said.
"I do have to say that if nurses are ill, they should not be at work with vulnerable patients and obviously that is an absolute given, but there are far too many nurses (suffering illnesses).
'Unacceptable'
"In fact, in a survey that we did in the past, more than third of all nurses in Northern Ireland have suffered work-related stress in the last 12 months and I think that we are not asking enough questions about why that is."
She said cancellations were "unacceptable" for patients, but said it was symptomatic of wider problems within the heath service.
"Life is not a picnic for hospital managers either," she said.
"There is something fundamentally wrong with how we're trying to do things, and the college does not believe that we're trying to sort out our problems in the right way.
"We believe the way to sort them out is to engage with frontline staff and together to make those changes.
"What we do is, we put in place more targets, we put in place more data collection procedures, but actually they're not fixing the problem."