On-the-run cigarette smuggler Michael Fearon in prison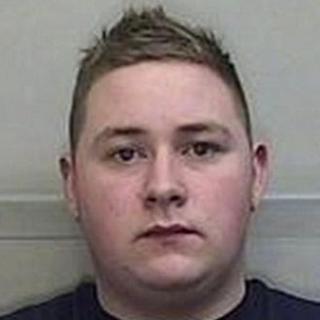 A convicted cigarette smuggler who featured on a list of most wanted tax fugitives is in prison after handing himself in to authorities.
Earlier this year, Michael 'Arthur' Fearon, 21, from Newry, was convicted in his absence for his part in a 8.4m cigarette smuggling operation across the Irish border.
He was sentenced to one year in jail and one year on licence.
However, Fearon absconded during his trial in September 2012.
He is now in Maghaberry Prison serving a sentence for tobacco fraud.
His co-accused, 41-year-old James Francis McDonnell, from Ferryhill Road, Newry, was sentenced to five and a half years, half of which is to be spent in custody and half on parole.
The pair were the only two people apprehended when police and customs officials raided units at the Bridgeview industrial estate in Meigh, south Armagh, on 29 June 2010.
Their trial was told that a number of others managed to escape over the border to the Republic of Ireland during the raid.
Donald Toon, director of criminal investigation at HM Revenue and Customs, said: "Fearon thought he could go on the run to avoid facing justice - but he was wrong.
"We relentlessly pursue tax fugitives and ensure they face the consequences of their criminal activity, and after over a year on the run, Fearon has done the right thing."