Ulster Bank 'may face radical change' says ratings agency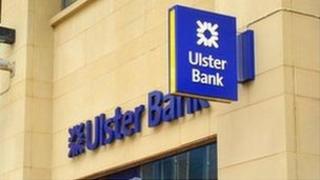 Ulster Bank may face radical changes as part of a review of its operations, a credit ratings agency has predicted.
Ratings agencies evaluate the creditworthiness of companies and governments.
In its latest report on Ulster Bank, the Standard and Poor's agency said that the bank has already been through several rounds of efficiencies.
It said that, therefore, the next step for the bank's management will be "to further reposition the business model".
It added: "Management has already delivered several rounds of cost efficiencies over the past four years, so, in our opinion, it may need to remodel Ulster Bank's service proposition more radically this time."
The review was announced last week after Ulster Bank's parent company, RBS, said the bank would remain a core part of its operations.
In recent years, Ulster has been the weakest part of RBS, which is majority owned by the UK taxpayer after it had to be bailed out in 2008.
Standard and Poors said it expects that Ulster will "play a meaningful role in the small, but concentrated, banking market that is emerging in Ireland" but that it will remain one of the weakest parts of RBS over the next two years.
The review is expected to be completed in February.