Theresa Villiers hopes Coleraine DVA jobs can be saved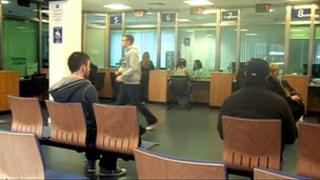 The secretary of state has said she hopes 300 jobs at the Driver and Vehicle Agency (DVA) in County Londonderry will not be moved to Wales.
The UK government is planning to move the jobs from Coleraine in a bid to centralise the service and save money.
Theresa Villiers told MPs on Wednesday: "I very much hope a way can be found to keep the jobs in Coleraine."
A decision on the proposed transfer of jobs to Swansea is unlikely to be made until the New Year.
Ms Villiers denied that the proposal was part of any disengagement from Northern Ireland.
Questioned by the independent North Down MP Lady Hermon, Ms Villiers said: "This issue is not driven by disengagement. I have discussed it with the prime minister and he is well aware of the issues."
She said that UK Transport Minister Robert Goodwill will make the final decision.
'Excellent service'
Ms Villiers made her comments to the Northern Ireland affairs committee where she was pressed by Labour MP Kate Hoey and North Antrim DUP MP Ian Paisley to retain the jobs in Coleraine.
She also told the committee that any job losses in Coleraine would have a "wider economic impact", and she described it as a "difficult situation".
Meanwhile, Stormont Environment Minister Mark H Durkan and officials from his department met Mr Goodwill in London on Wednesday.
Mr Durkan said: "At the meeting I reiterated that there is no reason for vehicle licensing offices in Coleraine and across Northern Ireland to close, and that this excellent service should be enhanced through greater investment by DVLA (Driver and Vehicle Licensing Agency).
"I got a good hearing from Robert Goodwill and he acknowledged the strong, definitive economic, social and political arguments for retaining these jobs and service.
"It was clear from the discussion that given the strength of the arguments in favour of Northern Ireland, there is political interest at the highest level of the British government in this decision.
"I remain hopeful that the right decision will be made for motorists in Northern Ireland and for staff.
"I would urge all MPs, MLAs and customers of the DVA to support me in fighting to keep these jobs."