Former postmistress Margaret Johnston jailed for stealing £120,000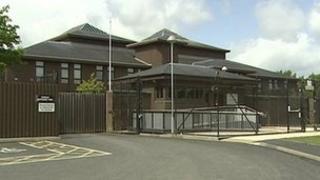 A former postmistress has been sent to prison for a year after she stole more than £120,000 from the County Armagh post office where she worked.
Margaret Johnston, from Grove Gardens, Armagh, faced six charges including theft, fraud and false accounting.
She took the money from the Barrack Street premises in the city over seven months last year.
Craigavon Crown Court heard she did it to feed her son's gambling habit which started when he was 14.
She was caught when the Post Office's fraud team investigated the post office's accounts.
'Well respected'
Johnston, 60, admitted what she had done at that point and was suspended from her job.
She has since put her house and the post office building she owns on the market in order to pay the money back.
She has also used her pension savings of £50,000 towards the missing sum.
Johnston wept throughout Tuesday's court proceedings as she heard her defence barrister describe her as a very well respected servant to her community.
He said she had been held in high esteem and was now known as a thief.
Commenting on her son's gambling addiction, the barrister added: "A mother's love knows no bounds."
'Trust'
The Crown Court judge said it was a tragic case and it should be Johnston's son who should feel very guilty indeed.
The judge added that people trust their local post office and this case will have an affect on public confidence.
She handed down a two-year sentence, half of which the former postmistress will spend in custody.
Johnston's son, Kyle, who is now an adult in his 20s, was in court for the hearing.
He refused to speak to the media as he left the courthouse.