DSD seeks return of £8m housing grant from Helm Housing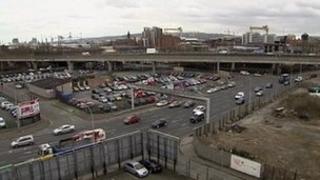 The government is to seek the return of £8m from a Northern Ireland housing association after a major project failed to deliver a single new home.
Helm Housing received the public funds in 2007 to part-finance its £9.7m purchase of land in Belfast.
Helm's proposal was for 200 homes on the site at Great George's Street.
But nothing was built and now an Audit Office report has said the Department of Social Development (DSD) "is minded to begin recovery procedures".
The undeveloped land, beside the M3 flyover, has been the subject of several investigations.
'Barred'
Its former owner sold it for £6.5m to an Isle of Man-registered company which then sold it on to Helm Housing for £9.7m later that same day.
The DSD has told the Audit Office it is "unable to obtain any explanation for these transactions".
The land is now worth considerably less.
Helm Housing has undergone a major shake-up in recent times after failures were identified in how the organisation was run.
It has a new chief executive, chairman and board members.
In 2011, it was barred from obtaining public money to build new homes.
But following a recent review by the DSD, Helm has now been reinstated on the government's social housing programme.
Helm, one of the biggest housing associations in Northern Ireland, said the move "heralds a new era".