Woman dies after four-vehicle crash near Fivemiletown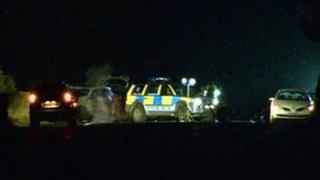 A 69-year-old woman has died in hospital following a four-vehicle crash in County Fermanagh.
It happened on the main Enniskillen road between Brookeborough and Fivemiletown shortly before 17:30 GMT on Friday.
Eight other people, including three children, were taken to hospital after the crash, which the Ambulance Service described as a "major incident".
Their injuries are not believed to be life-threatening.
Police have appealed for witnesses to contact them.
Speaking on Friday night, John McPoland, from the Northern Ireland Ambulance Service, said: "Because of the numbers involved, we were told possibly seven patients.
"We sent eight ambulances, three rapid response vehicles and a number of officers to the scene.
"On arrival we found nine patients requiring hospital treatment, including three children."
The injured were taken to the South West Acute Hospital in Enniskillen, County Fermanagh, and Craigavon Area Hospital in County Armagh.
Earlier on Saturday, two of the adults were said to be in a stable condition in the South West Acute Hospital.
Another two adults were transferred to Altnagelvin Hospital, County Londonderry, where they were also said to be in a stable condition.
The three children have all been discharged.