David Black murder: New police appeal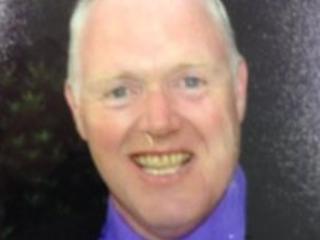 Police have made a fresh appeal for information exactly one year after the murder of prison officer David Black.
The father of two was shot dead on the M1 in County Armagh on 1 November 2012 as he drove to work at Maghaberry Prison in County Antrim.
The 52-year-old was the first prison officer to be murdered in Northern Ireland in almost 20 years.
Detectives from Serious Crime Branch are making a specific appeal to people in Lurgan and Cookstown.
Mr Black lived in Cookstown, County Tyrone, and the Toyota Camry car used in his killing was later found burnt out in Lurgan, County Armagh.
A number of men were seen running away from the car.
Det Ch Insp Richard Harkness said: "Although it is one year since David's murder, we are still appealing for people to come forward with information.
"I am making a particular appeal to people in Lurgan to think about what they know and what they saw last year.
"The dark blue Toyota Camry was in Lurgan prior to the shooting on the evening of 31 October and was set on fire about 20 minutes after David's murder a few miles from the M1 at Inglewood on the morning of 1 November.
'Unusual activity'
"A number of men were seen running away from the car.
"I would appeal to anyone who can help us with this specific inquiry, or who knows anything about David's murder, to come forward.
"I would also appeal to people in Cookstown to think about what they saw in the days and weeks before David's murder.
"Did you see any unusual activity around David's home or the places he frequented? If you have any information, please contact us."
Mr Black was attacked between Portadown and Lurgan on the M1, about a mile from Lurgan exit.
A dark blue Toyota Camry with a Republic of Ireland registration, 94 D 50997, pulled alongside and a number of shots were fired, killing Mr Black.
The Toyota Camry was found burnt out in the Inglewood district of Lurgan a short time later at 7.50am.
Two men, one in Northern Ireland and one in the Republic of Ireland, face charges linked to the purchase and movement of the Toyota Camry.
A reward of up to £10,000 is available from Crimestoppers for information leading to the arrest and conviction of those responsible for the murder.
Information can be provided anonymously to Crimestoppers on 0800 555 111 or by phoning the Special Incident Room on 028 3831 5291.
DCI Harkness added: "Today is a particularly difficult day for David's wife Yvonne and their children Kyle and Kyra.
"They have endured a degree of suffering and loss over the past year which most of us cannot imagine."