Murder attempt accused barred from Belfast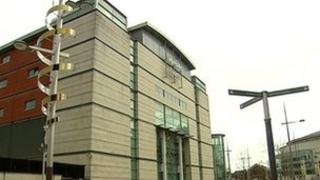 A man accused of the attempted murder of his partner has been granted bail, but barred from Belfast.
At Belfast Magistrates' Court, Michael McCambley, 46, spoke only to confirm he understood the 14 charges against him.
Mr McCambley, of The Mount, east Belfast, is accused of trying to kill his ex-partner on 15 September.
He is further charged that on the same date, he wounded his alleged victim, caused her actual bodily harm, made a threat to kill her and assaulted her.
Mr McCambley also faces further charges of assault, making threats to kill, false imprisonment and three counts of possessing a weapon, namely a knife, with intent to cause his former partner grievous bodily harm, all alleged to have occurred on dates between 1 February last year and 29 September this year.
'Throttled'
A police officer told the court he believed he could connect Mr McCambley to the charges and in objecting to his release on bail, said police feared that if released, the accused would either interfere with the witness or "go back and carry on this abuse".
The officer described how, according to the police case, the attempted murder related to an allegation that Mr McCambley "throttled" his partner with his hands around her throat until she lost consciousness, and alleged abuse "has been ongoing for a considerable period of time".
He told the court police had been called to the couple's home on 29 September and had noted the alleged victim's arm was in a cast but at that stage, she was "too upset" to make any complaint and instead, wanted officers to remove Mr McCambley.
No statement of complaint was made until two weeks ago the court heard, when she wrote out a 15-page statement outlining how she had allegedly suffered abuse over a three-year period.
A defence solicitor said that Mr McCambley had answered all police questions during a series of interviews when he himself claimed he had also been the victim of domestic abuse.
'Farce'
He said the case was "a farce" given that for two weeks, the police had a statement claiming he was a would-be killer but had done nothing about it until they phoned Mr McCambley to invite him in for questioning.
The solicitor said he would be referring the handling of the case to the Police Ombudsman.
He said the court might look to the alleged victim's conduct from the date of the alleged attempted murder in that she was contacting him by phone and text message and "takes him back into the house".
District Judge Harry McKibben told the solicitor, however, that such behaviour "is not uncommon" because it takes victims of abuse "so much courage" to come forward.
The judge said he was only persuaded to grant bail because "it's not the strongest case as it stands at the moment", but as well as barring Mr McCambley from Belfast, he also ordered him not to have any contact "in any shape, form or fashion" with the alleged victim and ordered him to report to police three times per week.
Mr McCambley is before the court again on 22 November.