Illegal fireworks could cost £5,000 in fines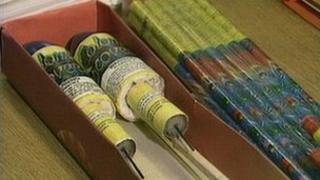 Hundreds of people in Northern Ireland could be fined up to £5,000 if they let off fireworks without a licence, the justice minister has said.
David Ford was speaking ahead of Halloween celebrations in the coming days.
A valid fireworks licence is required for buying, possessing and using certain types of fireworks.
Mr Ford said hundreds of licences have been issued so far, but he criticised those that ignore the law.
Speaking on BBC Radio Ulster's On Your Behalf programme on Saturday, Mr Ford said: "We've issued - since 1 September - 299 licences this year.
"I suspect you'll find that the bangers going off on the street are nothing to do with licences and they are almost certainly illegally bought.
"They are showing great distaste for other people, for the way they treat neighbours, for the threats to animals, older people who feel unhappy and insecure. That's the real reason why we have licensing."
Dangerous
Meanwhile, Mr Ford and Health Minister Edwin Poots have urged everyone to follow the firework safety code this Halloween.
Mr Poots said: "Fireworks can be extremely dangerous, and we want to prevent injury at all costs.
"Make sure you handle fireworks responsibly and safely, and remember that fireworks can also have a traumatic effect on pets and farm animals."
In 2012, 14 people attended an emergency department with a firework-related injury - 11 fewer than in 2011.
Ten of those injured from fireworks were under 18, with five under the age of ten.