Graves damaged in Carnmoney cemetery attack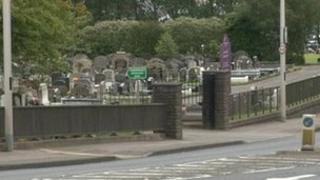 Four graves have been attacked in a cemetery in County Antrim.
Two headstones were knocked over, which caused damage to a third at Carnmoney cemetery in Newtownabbey. Paint was thrown over a fourth grave.
The Progressive Unionist Party (PUP) said the graves of "a number of loyalists" were among those targeted.
When asked if they were treating the attacks as sectarian, a police spokesman said: "At this stage, all lines of inquiry are being considered."
The damage is believed to have been caused sometime between Thursday and Saturday morning.
'Desecration'
Nigel Dodds from the Democratic Unionist Party (DUP) described the vandalism as "sickening".
"It is disgraceful that anyone should violate the peace and sanctity of a cemetery," the North Belfast MP said.
"Such desecration is not wanted in Newtownabbey or anywhere else. Our thoughts are very much with the families affected by this vandalism who will be deeply hurt and upset."
The police have appealed for witnesses to contact them.