Ards development at Crepe Weavers site gets green light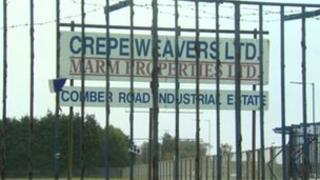 A plan for the major redevelopment of a former textiles factory in Newtownards, County Down, has been given the go-ahead by the environment minister.
Mark H Durkan has granted outline planning permission for the scheme at the derelict Crepe Weavers factory.
The development plan includes industrial and business units, two nursing homes, a hotel, a health centre, shops and nearly 100 homes.
Mr Durkan said industrial use was a key aspect of the scheme.
He said the non-industrial developments could not proceed on their own.
The minister said a planning condition meant that a number of industrial units must be built at the outset of the scheme.
He added that the 25-acre site at Comber Road, Newtownards, had the potential to accommodate as many jobs as the factory once supported at its peak and represented the best opportunity to improve the appearance of the area.
The developers are Marm Developments, a property firm linked to the former directors of Crepe Weavers.
The factory closed in 2005 and subsequent industrial uses of the site ceased in 2010.
Two other major developments in Newtownards received planning permission last year.
The Castlebawn project on the edge of the town centre is focused on retailing. A significant expansion of the existing Ards shopping centre was also approved in 2012.