Belfast boxing club that wants to punch through the peace wall
The City of Belfast Boxing Academy is so close to the Short Strand peace wall in east Belfast that the wall is actually part of the building's infrastructure.
Set up only two years ago, the club is on the loyalist side of the wall.
It has made the most of government and private funding to build what can only be described as a world-class gym.
And what does a boxing club on a peace line want to do? It wants to punch through the wall and build a door of course.
The door would allow nationalists on the other side of the peace wall direct access into the club.
The man behind the plan is head coach, Terry McCorran.
He has been in contact with the Department of Justice for months about doing this - and he is not taking no for an answer.
"If I had a sledgehammer I would have that wall down today," he told a BBC Radio Ulster documentary.
"Who would have believed that this could happen in what is probably one of the worst interface areas in Belfast?"
The Department of Justice has already sent representatives to the club to look at how this could happen.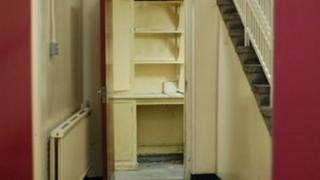 A spokesman for the department said: "There are a number of factors that need to be considered if this request is to be met, including community safety issues.
"We are working with all concerned to see if this objective can be facilitated and help improve access to the club for those living in Short Strand."
But is this realistic and do people on either side of the wall want a door inserted?
"There are people that want the wall there," Terry said.
"I don't think they are comfortable with a change because it's almost like the unknown.
"They've never lived without it, it's always been there.
Target
"When you've lived with something so long, it becomes normal."
Peace walls were first erected in Northern Ireland in the late 1960s as a temporary measure to minimise violence between nationalist and unionist communities.
The DUP and Sinn Fein have already outlined "shared future" plans that included a target to bring down all of Northern Ireland's peace walls by 2023.
Another coach at the club is Colm, and he follows an ideology that everybody in the club adopts.
He said: "I don't care who I teach - just as long as they leave all their prejudices behind and political persuasions at the door."
But he accepted that there are still not enough people from the other side of the wall using the facilities.
"Few people would come across to us and that's really unfortunate because this building has so much to offer."
He also admitted that some people in the area would not have the right intentions if they did enter the club.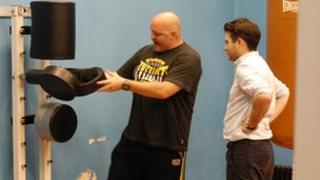 "There are some people that don't care about this club, just outside the gates," he added.
"They are spoiling it for not only the people on the other side not wanting to come in, but also for those on their own side who want to come and put the time in in the gym - it's just pure selfishness."
What should not be forgotten is that the club is producing some of the most exciting boxing prospects in Northern Ireland.
One of those tipped for the top is Mark.
"When I first joined, I was joining to just toughen me up - but I soon got addicted to the sport and club," he said. "The club is like a big family."
'Vision'
Another prospect is Fiona, one of many female boxers who attend the club.
"Especially in this area, in which there are so many social divisions, it is great to come across a group of people that just want to forget about the trouble that is happening and portrayed in the media," she said.
"And as a social worker, I can understand the vision of many of the coaches. It's not just about boxing - the club is already introducing mental health and drug awareness seminars.
"It has gone from a boxing club to something much more than that."
That point is reiterated by a community representative who said that "two people are still alive today because of what this club has done for them".
Boxing Clever is a Falling Tree production. It was first broadcast on BBC Radio Ulster on Sunday, 20 October, and is repeated on Thursday 24 October at 19:30 BST.