Carroll murder appeal court: 'Witness held at gunpoint'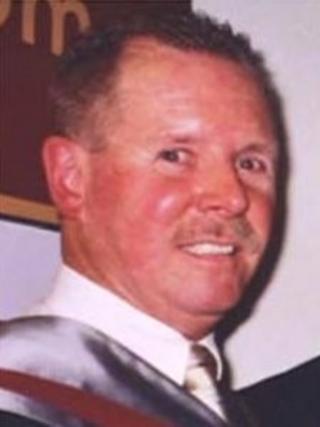 Police believed a new defence witness in appeals by two men jailed for murder may have been held and threatened at gunpoint, a court has heard.
The officer who headed the inquiry rejected claims that the man was arrested in a last-ditch attempt to rescue his case.
Constable Stephen Carroll was shot dead as he responded to a 999 call in Craigavon in March 2009.
Brendan McConville and John Paul Wootton are appealing their conviction.
John Paul Wootton, 22, from Colindale, Lurgan, and Brendan McConville, 42, of Glenholme Avenue, Craigavon, are serving life sentences for killing the police officer at Lismore Manor, Craigavon, County Armagh.
Det Ch Insp Richard Harkness told the three appeal court judges on Wednesday: "I had reason to believe he (the witness) was under immense pressure from persons who would not have the interests of justice at heart and would not think twice about inflicting serious violence on people if they didn't get their own way."
The senior officer denied allegations that the man was held and questioned in a bid to "nobble" him and sabotage attempts by Brendan McConville and John Paul Wootton to overturn their convictions.
'Untrue'
During a detailed cross-examination, he said it was untrue that he had overstepped the mark and turned his investigation into a "mission".
Constable Carroll was the first member of the PSNI to be murdered.
McConville is serving at least a 25-year-sentence for the murder. Wootton received a minimum 14-year term.
Central to the prosecution case was the evidence of a man identified only as Witness M who claimed to have seen McConville in the area around the time of the killing.
However, this man's father has now testified to the Court of Appeal that his son was a compulsive liar and Walter Mitty-type character who could not have been there.
The new witness was arrested and detained overnight on suspicion of withholding information before being released without charge.
He told the court he was never coerced, threatened or forced to make an affidavit undermining his son's credibility.
It was put to Det Ch Insp Harkness by a defence lawyer for McConville, that covert surveillance of this man's home and a bar failed to back up police suspicions that he had been held against his will.
'Armed men'
The detective replied that he had other information prior to the operation that indicated the man had been held against his will.
"May I suggest there was material in those (surveillance) transcripts which indicated to me something untoward had taken place involving (the new witness) and armed men," he said.
However, the defence lawyer questioned why police waited for ten days to go and speak to him if they had such fear for his safety.
The detective repeatedly refused to disclose details surrounding intelligence in the case, citing the potential threat to the safety of some of those involved.
"There are people listening to what I'm saying, who may use this information and I do not wish to go into specifics," he said.
"I'm having to walk a tightrope, so I don't increase any Article 2 (right to life) risks."
At one point in the exchanges, the detective revealed details of an alleged threat received by Witness M - who is now in a protection programme outside Northern Ireland - just before he was due to give evidence at the original trial.
"It implied that if Mr McConville were to be convicted and they could not get Witness M, they would get a member of his family," he said.
Earlier in the hearing, he said that Constable Carroll had been a colleague in the same district, although he had not known the murdered officer personally.
The defence lawyer said: "Is it not the case Det Ch Insp Harkness that this became not so much an investigation as a mission?"
He replied: "That is not true."
The barrister then asked: "Did you think it led you to maybe overstep the mark?"
'Personal details'
Again the answer was: "That is completely untrue."
He was then questioned about his role in heading an investigation into the discovery in 2009 of a note containing the personal details of a former Maghaberry Prison governor in the cell where McConville was being held on remand.
With a prisoner ombudsman inquiry having concluded that it had probably been planted by a member of staff at the jail, the defence lawyer claimed police were only interested in trying to establish that McConville was responsible.
The court heard that a document sent by police to the Public Prosecution Service recommended bringing a charge against the prisoner.
Det Ch Insp Harkness, who had indicated no recommendation was made, said he had not seen the paper before.
Based on the prisoner ombudsman's findings allegedly being lost for a period in the PSNI's system, the defence lawyer said: "The police wanted to build up a picture against him (McConville) which could be used in the murder investigation which you, as it happened, were also leading."
Once again the detective insisted: "That is untrue."
He was asked whether it was a coincidence that within 40 minutes of being informed of the affidavit being filed by Witness M's father, the intelligence said to back up the perceived threat to his safety came through.
Det Ch Insp Harkness told the judges: "This matter has been reviewed within the highest levels of the PSNI, the Public Prosecution Service and senior counsel in this case.
"I have been accused of sabotage, I have been accused of nobbling a witness very publicly and I would suggest to you, my lords, if the people who reviewed this material had any concerns, they would have referred me for investigation to the Police Ombudsman's office and I have no doubt that they would have alerted (defence lawyer) Mr Macdonald QC to those concerns."
The lawyer maintained, however: "This was just a last-ditch attempt to rescue a case that you could see heading off the rails.
"You had him arrested in order to either pressure him to withdrawing his affidavit or, failing that, so you could cross-examine him in a police station under threat of criminal prosecution."
Rejecting his assertion, the detective insisted he had acted as responsibly as could be expected in a difficult situation, with the witness given access to legal advice.
The appeal hearing continues on Thursday.