Mary's Titanic celebration for 106th birthday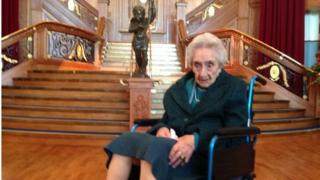 More than a century after Mary Millar watched the Titanic on its sea trials, she celebrated her 106th birthday in style - at Titanic Belfast.
It was 1912 and the eyes of the world were on Belfast, home of what would soon become the most famous ship in history.
Before its maiden voyage, the Titanic went on a number of trials from Belfast Lough.
Five-year-old Mary Millar was placed by her mother on the front door of her family home in Ballywhisken, near the seaside town of Millisle, to watch it go by.
She remembers the Titanic as just another boat.
"I just thought it was just the same as the other boats," she said.
"We used to see them all going down on the sea trials and the only difference was this one was thought to be unsinkable."
Mary said it was not for years that the tragedy of the Titanic made sense.
"I was five when the Titanic tragedy happened and everybody was devastated about it," she said.
"It didn't mean very much to me then but when I got more sense I think it did come home what a tragedy it was.
"We just couldn't believe it, I know we were all very sad when it happened."
Chief executive of Titanic Belfast, Tim Husbands, said that even after a visit from the prime minister last week, Mary was one of the most high-profile visitors to the museum.
"We've had over a million visitors so far, but to have someone as full of the heritage, full of the stories and authenticity, someone to be able to actually say they saw the Titanic during the sea trials, I think, gives testament to the story we're trying to tell here," he said.
"To have someone who can tell the story of what it was really like is very rare these days."
Facing an unexpected level of publicity for the day, Mary was photographed by the press in front of the replica of the Titanic staircase and treated to a traditional afternoon tea.
Mary's niece, Ruby Wilson, said the family had no idea of the Titanic connection for years.
"The first we knew was really when the films and everything started to come out about the Titanic and she said: 'You know I saw the Titanic'.
"Of course then there was a buzz of excitement with us about that.
"She told us about how her mother had set her down to look at this ship but it didn't mean anything to her then, she was only a wee young girl.
"But the people obviously were excited which was why her mother set her on the doorstep to watch for it."
Ship-building in Belfast remained a part of Mary's life as her late husband, James, who she married in 1936, worked in the Harland and Wolff shipyards for 40 years.
Presented with a 106th birthday cake, and posing with her letter from the Queen and an honorary medal from the Irish president received on her 100th birthday, Mary said she was thrilled to be in the Titanic museum a century after seeing the real thing.
"I just can't tell you, I'm so excited, I never expected all this fuss," she said.