1977 IRA soldier murders: man released after questioning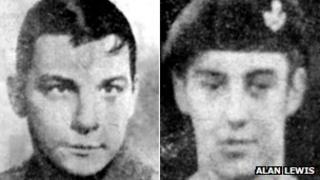 A 54-year-old man arrested in west Belfast in connection with the murders of two soldiers 36 years ago has been released.
Pte Michael Harrison, 19, and Pte Richard Turnbull, 18, who were serving with the Light Infantry, died in an IRA gun attack in Belfast on 29 June 1977.
They were killed when Army vehicles came under fire in North Howard Street in west Belfast.
The man was released pending a report to the Public Prosecution Service.
Pte Harrison was from the town of Dinnington in South Yorkshire while Pte Turnbull hailed from North Yorkshire.
They were just two days into a four-month tour of duty in Northern Ireland when they were killed as the Army patrol they were travelling in turned into the path of the waiting ambush.
A regimental padre and an officer were both injured in the attack, though not seriously.
Six people were charged in the wake of the shooting, with one sentenced to life for murder.