'Red Flag Alert' offers evidence of more stable NI economy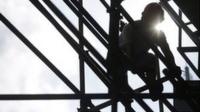 A survey of companies in financial trouble has added to evidence that the Northern Ireland economy is stabilising.
The Red Flag Alert, compiled for business recovery firm Begbies Traynor, shows 50 firms were facing critical problems in the second quarter of 2013.
That is virtually unchanged from the first quarter.
It is much improved on the same period last year when 119 firms were in serious trouble.
However, it also suggests that economic recovery in Northern Ireland is trailing behind the UK as a whole, where there has been a quarter-on-quarter improvement.
Joan Houston, partner at the Northern Ireland office of Begbies Traynor, said there was room for optimism.
"While the rest of the UK appears to be showing signs of stability and in some sectors and regional areas, strong signs of recovery, we should not lose heart in Northern Ireland," he said.
The sector with the largest number of firms in critical distress is still construction.
Businesses in retail and hospitality also continue to face pressures at a time when most people's disposable income is flat or falling.