Tributes to Castlewellan farm death boy Aaron Macaulay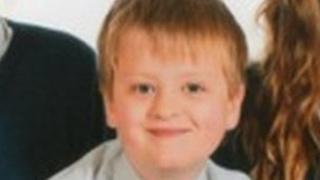 The family minister of the 10-year-old boy who died after an accident at a farm near Castlewellan, County Down, has recalled how "every time you met him he brought a smile to your face".
Aaron Macaulay was working on farm machinery on steep ground in the Rathfriland Road area at Ballyward on Tuesday, when the accident happened.
He was airlifted to Craigavon Area Hospital, but could not be saved.
Rev Michael Davidson visited the Macaulay family on Tuesday evening.
He said he encountered a "scene of devastation".
Rev Davidson said the Macaulay family regularly attend Drumgooland Presbyterian Church and that Aaron often contributed to the service in his unique way.
"Aaron was a boy who every time you interacted with him, he would bring a smile to your face, so often he would raise a laugh," he added.
"On Sunday morning, when it came to our children's time I would ask questions of the boys and girls and you would always be sure Aaron's hand would go up.
"There was almost an intake of breath before Aaron would speak from the congregation, from his family especially.
"You were never quite sure what Aaron would come out with, but you were sure that more often than not it would raise a laugh from the congregation."
Rev Davidson said the Macaulay family would be in the thoughts of the church congregation at a prayer meeting on Wednesday night.
"I'm confident that as a congregation, that as a community, they will stand with the family through this time and in the weeks and months that lie ahead," he added.
Keith Spiers, principal of Drumadonnell Primary School, said: "Aaron would have been known by everyone, staff and pupils alike.
"He loved to help with the younger children in the playground under our friendly faces scheme where he played with children who were perhaps playing by themselves outside.
"He was very popular, he always got involved in things at school, after school activities - Aaron always wanted to be involved."
The Health and Safety Executive has been informed of the death and is now taking the lead in the investigation.
Political representatives from across the community have expressed their shock at the accident and have offered their sympathies to the Macaulay family.