Bishop denies rejecting Orange Order invitation over parade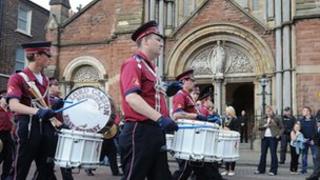 The Catholic Church has denied that a bishop refused to meet the Protestant Orange Order to discuss the controversy over a parade passing a Belfast church.
There has been no resolution to a dispute over marches past St Patrick's Church in Donegall Street.
The Parades Commission has placed restrictions on loyal order parades in the area.
The Orange Order asked the Bishop of Down and Connor to visit its headquarters, but he has not as yet.
Talks took place last September to try to resolve tensions in the area, the church said, ahead of an Ulster Covenant commemoration parade.
'Entirely inaccurate'
Father Eddie McGee, a spokesman for the Catholic Church, told the BBC's Sunday Sequence programme that the invitation was not for face-to-face talks involving Bishop Noel Treanor.
He said an unsigned, open letter was issued by the Orange Order and reported the following day in local media.
"Over the past number of weeks the portrayal and presentation of this invitation to a covenant exhibition has morphed or changed into what some people believe is that Bishop Treanor has refused or rebuffed or even deferred face to face talks with the Orange Order," Fr Magee said.
"This is entirely inaccurate because Bishop Treanor has not received any invitation to face-to-face talks around parades. He has received no private communication from the Orange Order so there's no invitation to defer."
'Mutual understanding'
However, Reverend Mervyn Gibson from the Orange Order said the invitation still stands.
"That invitation still stands and is open, whether it was declined, deferred or whatever it hasn't taken place but the invitation is still there," he said.
He said the Orange Order had intended that any conversations would have built "mutual understanding around many issues but particularly around parades".
He said if it required a personal invitation to the bishop, then "that would be followed up".
The controversy surrounding the church first arose on 12 July 2012, when a loyalist band taking part in the annual Orange parade in Belfast was filmed marching in circles outside St Patrick's, playing a contentious song.
Since then, the Parades Commission has placed restrictions on loyalist parades passing the Catholic church.
Public disorder followed a Royal Black Preceptory march past the church on last August and there were three consecutive nights of rioting after a republican band parade in the nearby area last September.
However, a major Orange Order parade to mark the centenary of the Ulster Covenant passed St Patrick's peacefully later that month.