Agencies prepare for possible flooding in Northern Ireland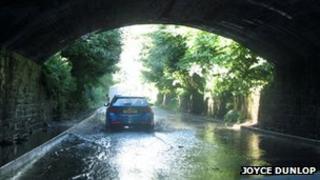 Preparations have been put in place by Northern Ireland Water and other agencies to limit the impact of any flooding over the weekend.
They are advising homeowners and businesses to have sandbags in case water levels rise at their properties.
Staff have been checking and cleaning gullies and culverts.
Over the past few days some parts of Northern Ireland experienced heavy rainfall that resulted in isolated flooding.
The Met Office said thundery downpours were possible on Friday but that those would die away in the evening.
More rain is expected on Saturday and Sunday.
NI Water, Rivers Agency and Roads Service have put staff on standby over the weekend.
They have been working with councils to ensure stocks of sandbags are available if needed.
Householders and businesses at risk are being asked to move valuable contents upstairs if possible.
They should also know where to turn off electricity or gas.
Advice on how to prepare for a flood and what to do if a flood happens can be found here.
Anyone affected can call the flooding incident line on 0300 2000 100.
The Consumer Council is advising anyone who feels their property is at risk to take simple steps to protect it from flooding.
These include getting sandbags, preparing a kit; finding out where electricity and gas can be turned off and moving documents to a high place.
They are also advising everyone to be aware of rain or flood warnings from the Met Office.