Alliance to challenge Castlereagh council decision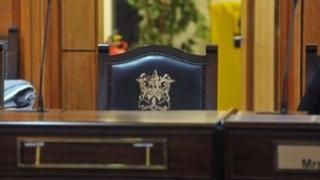 A decision by Castlereagh Council to appoint two unionist representatives to a committee handling the transfer of some areas into an enlarged Belfast council area is to be challenged.
The Alliance Party claims the decision taken on Thursday contradicts guidance from the environment department.
It follows a similar row earlier this week on Lisburn Council.
Councils across Northern Ireland are appointing what are known as Statutory Transition Committees.
Their job will be to oversee the reduction from 26 to just 11 councils.
Belfast is taking in some parts of Lisburn and Castlereagh, so both councils were asked to appoint two representatives to join the new Belfast Transition Committee.
Alliance councillor Michael Long said he was absolutely shocked that a DUP councillor and Ulster Unionist have been picked to represent the Castlereagh districts.
He claims this was undemocratic, arguing Alliance should have been entitled to one of the places.
Alliance has pledged to challenge the decision.
Earlier this week Sinn Fein indicated it would challenge a similar move by Lisburn Council, which nominated a DUP and SDLP representative to the new Belfast Transition Committee.
A DUP spokesman said: "The guidance issued by the environment minister to councils in relation to the transition committees was guidance and not legally binding.
"Legal advice was sought in relation to these appointments by at least one of the councils in question which supported the view taken by members of the council."
An Ulster Unionist spokesperson said: "Whilst the Alliance Party may disagree with the democratic decision of Lisburn and Castlereagh councils, this is the same party who acted tactlessly in their decision to remove the union flag from Belfast City Hall.
"After the last Assembly election the Ulster Unionist Party returned 16 Assembly Members and the SDLP 14. Both parties subsequently took up one place on the Executive. The Alliance Party, however, returned only eight Assembly members, yet shamelessly took two places on the Executive. Maybe they should take a look closer to home before coming out with such hypocritical statements."