Castlereagh Borough Council meetings record bid fails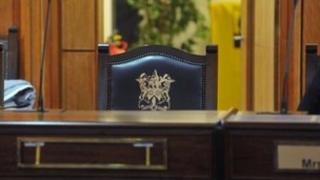 A motion brought forward by the Alliance Party calling for all Castlereagh Borough Council meetings to be recorded has been defeated for a second time.
Alliance called for recordings to be made to "dissuade" elected members from using abusive language.
Councillor Carole Howard said she and other Alliance members had been called "scum" and "bigots" in the chamber.
Ms Howard said such language and name-calling was not appropriate in politics.
Speaking after the motion was rejected Cllr Howard said she was "bitterly disappointed".
"Yet again Castlereagh councillors have turned down the opportunity to open the council further to members of the public," she said.
"Following the defeat last November, we tabled the motion again as we have seen from recent incidents at the Assembly that the only way to get accurate reflections of meetings is to use recordings."
'Nutters'
She said a recent Stormont row, when a DUP MLA denied and later apologised for using the term "nutters", showed the value of recording political meetings.
The remark was made by the DUP's Jimmy Spratt at a Stormont committee last month, during a discussion on those opposed to a new peace centre that is to be built on the site of the former Maze prison.
At first, Mr Spratt angrily denied that he had referred to the peace centre opponents as nutters, but he later issued an apology after a Hansard transcript of the committee meeting attributed the remark to him.
DUP councillor Jack Beattie told the BBC's Evening Extra radio programme that he estimated a full recording system could cost more than £100,000 and would be a waste of ratepayers' money.
He said Castlereagh Borough Council had the lowest rates in Northern Ireland and added that Alliance members were aware that no money had been set aside for recording equipment when the rate was struck.
However, Ms Howard disagreed and said a council in Canterbury, England, was using handheld digital recording devices costing a total of £160.