Sinn Féin pay £160,000 in legal fees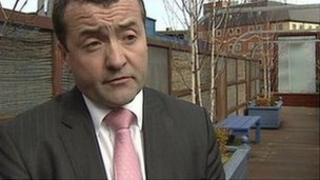 Sinn Féin paid out more than £160,000 last year in legal fees, according to figures just published by the Electoral Commission.
It follows the party's loss of a libel action taken by a former director of Northern Ireland Water.
Declan Gormley was awarded damages of £80,000 against the party.
Overall, Sinn Féin lost just over £63,000 over the year - even though it had the largest income.
The DUP and Ulster Unionists recorded a surplus. The SDLP recorded a loss.
Mr Gormley sued Sinn Féin over the contents of two press releases that it issued in 2011.
The party denied the press releases were defamatory but lost, and was ordered to pay Mr Gormley damages of £80,000. It was also ordered to pay full costs.
These have never been disclosed, but the party's annual accounts for last year show its legal costs were £161,680. These were not broken down. But its legal bill for the previous year was a mere £7,630.
Overall, Sinn Féin recorded a loss of just over £63,000 for 2012. Its income, at well over £1m, was more than double anyone else's.
The DUP showed the biggest surplus at £185,000; the Ulster Unionists made over £15,000.