Recorded meetings bid to stop 'abuse' at Castlereagh Borough Council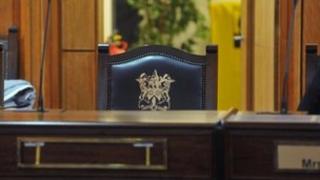 Alliance has called for recordings to be made of Castlereagh Borough Council meetings, to "dissuade" elected members from using abusive language.
Cllr Carole Howard said she and other Alliance members have been called "scum" and "bigots" in the chamber.
Ms Howard said such language and name-calling is not appropriate in politics.
She said a recent Stormont row, when a DUP MLA denied and later apologised for using the term "nutters", showed the value of recording political meetings.
The remark was made by the DUP's Jimmy Spratt at a Stormont committee last month, during a discussion on those opposed to a new peace centre that is to be built on the site of the former Maze prison.
'Waste of money'
At first, Mr Spratt angrily denied that he had referred to the peace centre opponents as nutters, but he later issued an apology after a Hansard transcript of the committee meeting attributed the remark to him.
Alliance wants an independent recording system to be introduced at Castlereagh Borough Council, and has submitted a motion that is due to be discussed when councillors meet on Thursday night.
However, the DUP has said the move would be a waste of public money and added that the Alliance proposal has already been rejected once before by Castlereagh councillors.
In a statement, Ms Howard said: "The use of personally abusive language and name-calling is not appropriate in politics at any level. The apology from Jimmy Spratt was only offered after the release of the committee's minutes showing that he had indeed made the offensive remarks in question.
'Transparency'
"After my colleagues and I were the target of similar inappropriate and abusive language at Castlereagh Council including being described as 'scum' and ' bigots', and after continued conflicts about what was said at meetings, we proposed last November that consideration should be given to having meetings recorded; however, this was opposed by both the DUP and UUP.
"We have therefore re-tabled our motion for this to happen to ensure that we have openness and transparency and to dissuade councillors from resorting to abusive and inappropriate language in exchanges," she said.
DUP councillor Jack Beattie told the BBC's Evening Extra programme that he estimated a full recording system could cost more than £100,000 and it would a waste of ratepayers' money.
He said Castlereagh Borough Council had the lowest rates in Northern Ireland and added that Alliance members were aware that no money had been set aside for recording equipment when the rate was struck.
However, Ms Howard disagreed and said a council in Canterbury, England, was using handheld digital recording devices costing a total of £160.