NI remains 'worst UK construction market'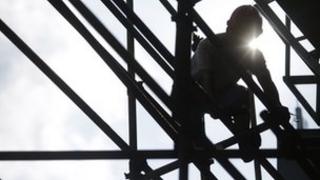 New data shows that, despite some improvement, Northern Ireland is still the worst-performing UK region in the construction sector.
According to the latest Rics (Royal Institution of Chartered Surveyors) construction market survey, Northern Ireland's construction downturn is easing.
Despite the improvement in the rate of decline, activity is still falling.
The UK as a whole has seen rising activity.
London and the south east of England are the best-performing region.
Jim Sammon, from Rics Northern Ireland, welcomed the improvements.
"Whilst the rate of decline in workloads has eased significantly, workloads are still falling, and we remain some way from a recovery," he said.
"The key challenges for the sector remain. Finance is constrained, private sector activity remains scarce and public sector demand remains constrained."
Mr Sammon urged the Northern Ireland Executive to take action in relation to increase capital spending on infrastructure.
"Beyond being a driver of growth, infrastructure is the fabric of our everyday lives that must remain efficient and well maintained," he said.